Every day, a significant amount of plastic is produced on Earth, leading to the serious pollution of our environment. However, this issue can be addressed through the use of plastic recycling machines. These machines, including plastic shredders, granulators, and extrusion machines, enable the reuse of waste plastic and give it a new lease on life. As a result, plastic recycling lines are highly valued by both recycling plants and other industries involved in plastics.
Discover the future of recycling with our PP/PE Film Recycling Washing Line. Designed for both efficiency and sustainability, this state-of-the-art machine transforms used PP and PE films into reusable materials, paving the way for a greener tomorrow.
Working Principle
The PP/PE Film Recycling Washing Line operates through a series of stages:
Sorting: The machine sorts the films, distinguishing between PP and PE.
Breaking: Films are then broken down into smaller pieces, making the cleaning process more effective.
Cleaning: The smaller film pieces undergo a thorough cleaning process, ensuring all contaminants are removed.
Drying: Post-cleaning, the films are dried, preparing them for the final stage.
Output: The cleaned and dried films are now ready for reuse or further processing.
Technical Specifications
Type: PP/PE Film Recycling Washing Line
Materials Processed: PP and PE films
Output: Cleaned and dried film pieces
Automation Level: High
Safety Features: Equipped with emergency stop functions and safety guards
| Model  | RT-300 | RT-500 | RT-1000 | RT-2000 |
| --- | --- | --- | --- | --- |
| Output(KG/H) | 300 | 500 | 1000 | 2000 |
| Installed Power(KW) | 130-160 | 210-260 | 300-350 | 400-460 |
| Water Consumption(T/H) | 2月3日 | 4月6日 | 7月10日 | 10月15日 |
| Labor Requirements | 2月3日 | 2月3日 | 3月5日 | 4月6日 |
We are pleased to offer you a free solution design service. Our team of experts will design the most suitable plastic film cleaning line solution for you based on your needs and requirements. Please contact us for more information and to start discussing your project.
Conclusion
The PP/PE Film Recycling Washing Line is more than just a piece of machinery; it's a testament to our commitment to the environment. By recycling and reusing PP and PE films, we're not only reducing waste but also promoting a sustainable and eco-friendly approach to plastic usage. Invest in a solution that's both efficient and environmentally conscious.
Applications:
1. Recycling PE and PP bags, including woven bags and jumbo bags.
2. Car covers and PE ground films.
3. Agricultural films.
4. Mulching films made from PE and PP.
The complete LDPE Film washing production line, with a capacity of 2000kg/h, includes the following items:
– Belt Conveyor
– Crusher
– Screw Loader
– Friction Washer
– Floating washer
– 5-1 Bottom Screw
– Friction Washer (second one)
– Floating washer (second one)
– 7-1 Bottom Screw
-Screw Loader (second one)
-Two Way screw loader
-Film squeeizing Machine
-Silo
-Electric Cabinet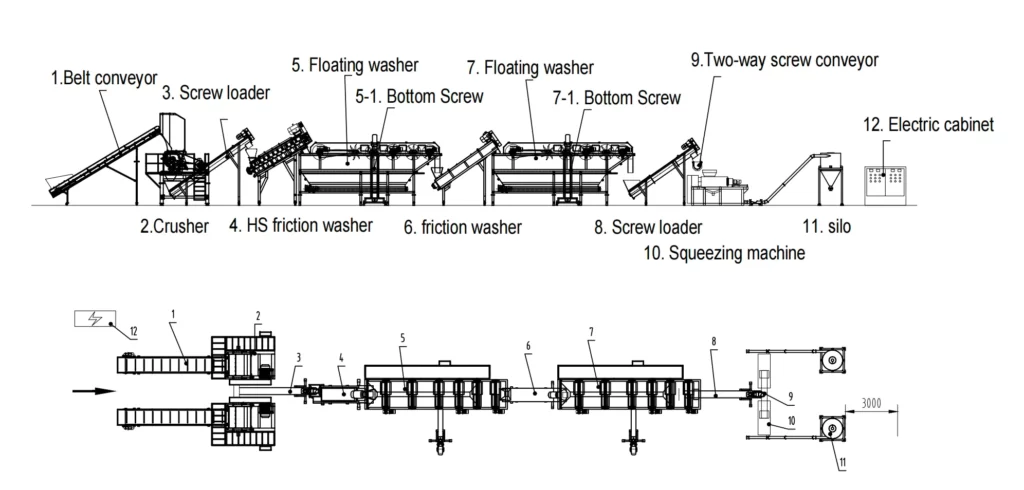 Warranty
All recycling machines come with a 1 year limited warranty.
INQUIRIES
To get the latest prices and lead times, send us a message using the form below.